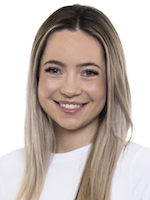 Warm, friendly and always helpful, Kasandra is a leasing specialist with a wealth of career and life experience that spans across multiple industries and interests. Working as a domestic flight attendant, mental health support worker and in varied operations roles prior to real estate, she's an accomplished professional and certainly no stranger to hard work.
Having grown up a local to Macarthur, Kasandra has an inherent understanding of the region which greatly benefits the depth of service that she provides in her role. She has a longstanding love of homes and interior design, and truly enjoys the opportunities to go above and beyond for clients that the industry offers.
A seasoned traveller, Kasandra places great value on learning about different people, cultures and food. She has explored much of Europe and the USA and is proud of the invaluable experiences that her travels have rewarded her with.