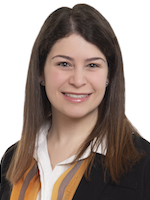 Receptionist - Licenced Agent
Mariah brings a fresh and bubbly approach to the front desk at Prudential Real Estate Campbelltown. Growing up in Fairfield before making Bradbury her home, she is fond of the area and this shines through her everyday interactions with the local community.
As Campbelltown's receptionist and first port of call, Mariah is driven to raise the benchmark for customer care, and her friendly and approachable nature assures excellent communication with the highest standard of service. Having worked in both industrial and commercial real estate before settling in residential, her dynamic experience is only furthered by previous university studies in teaching and nursing. She now holds a Certificate of Registration and Class 2 Real Estate Licence, and is fascinated by how the property industry is constantly evolving and provides uniquely rewarding opportunities.
A highly motivated individual, Mariah is attracted to Prudential's well-respected reputation for team culture and innovative approach to technology. She can be found gaming and enjoying relaxed walks with her partner and dog on weekends, and has developed a passion for baking and cake decorating.