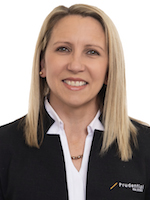 With a diverse background in teaching science, agriculture, food technology and hospitality for 13 years, Cathy commenced her career at Prudential Real Estate with a broad perspective, depth of knowledge and understanding of people.
She has learnt from the best in the business as wife of Liverpool Director Simon Perri, and brings a multi-faceted skill set to her current role as Leasing Assistant at the Liverpool office.
Dedicated to her position, Cathy holds a Certificate of Registration and is involved in conducting rental showings, ingoing and outgoing routine inspections of leased properties, and other day-to-day activities as required by the property management team.
Having grown up in The Oaks, she loves that her position allows her to meet and help members of the local community on a daily basis, and positively contribute to the lives of tenants, landlords and each of her colleagues.
Cathy is constantly inspired by the drive and enthusiasm of her team, and has a love of running, baking and dining with her husband and two beautiful kids when away from the office.