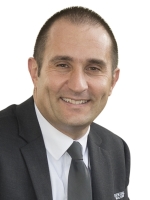 Simon Perri began his career in Real Estate entering the industry directly from school in 1998. The dedication shown by Simon towards his work makes him an asset to anyone wishing to enlist the services of a qualified agent.
Let's find out a little more about Simon:
Simon has been living in Rossmore since 1983. He enjoys the rural aspect, yet the convenience of living so close to major towns and infrastructure. With a strong Italian heritage, Simon has strong family values, and enjoys living in close proximity to his family, including parents, sister, grandparents, aunties, uncles and cousins. You will find Simon, and the extended family, once a year making the traditional Italian salami.
Simon married his longtime girlfriend, Cathy, in September 2009, with the reception taking place at the Macquarie Function Centre in Liverpool. And yes, as you could imagine it was a big family wedding! Happily married, Simon is still living at Rossmore and plans on living there for many more years to come and raise his own family in the area.
Simon's interests outside of work
When away from the office Simon enjoys a few hobbies and would describe himself as a keen fisherman. He also likes to unwind with the occassional holiday, particularly enjoying his previous trips to the New Zealand slopes.
One other major passion in Simon life is coffee. Yes, coffee!!! He enjoys the many aromas and flavours and has even started creating his own blends and brews, roasting a bean here and there. He frequents the yearly Aromafest in Darling Harbour and enjoys seeing the new advances and varieties that develop as each years comes and goes.
Values
Simon is described by his friends and family as a loyal person, the one people turn to for advice and guidance. He enjoys a regular catch-up with friends and family, and is always there to lend a hand when one is in need.
Achievements
Simon's commitment and wealth of knowledge in the Real Estate industry has lead to many awards and achievements in his successful Real Estate career, they include the following:
Being number one within the franchise group for listings created.
Second in the rising star award for the highest number of sales created.
Third in the highest listings converted to a sale in a financial year within the entire franchise group.
Now you know a little more about Simon, you can be assured that as the Director of Prudential Real Estate Liverpool he will provide you with only the best service and with true integrity and experience of the local area.