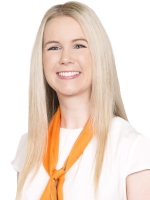 Friendly and reliable Rechelle was born in Campbelltown and has lived in the area her whole life. She started her career in real estate straight out of high school in 2007 as a Receptionist at our Campbelltown office. In 2008 she moved into Property Management at our Macquarie Fields office as Property Officer and has been in Property Management since then. After five years' working for another agency, Rechelle returned to Prudential Real Estate in 2017 as Team Leader in Property Management at our Macquarie Fields office.
Rechelle is a licensed Real Estate Agent and her daily work as Team Leader involves overseeing the property management operations at our Macquarie Fields office, supporting the team, ensuring that we meet our goals and, most importantly, ensuring that we provide the highest quality of service to our clients.
Rechelle, who is caring and trustworthy, enjoys the many challenges that working in real estate presents on a daily basis. She likes that there is always something new to learn and enjoys building quality relationships with our landlords and tenants to assist with their property needs.
Honest and hard working, Rechelle loves working at Prudential Real Estate because the team takes pride in their presentation and services offered, there is always opportunity to grow professionally and achieve career goals, it's a friendly team environment and the use of advanced technology improves the quality and efficiency of our work.
Rechelle has a passion for horse riding and in her spare time enjoys spending time with her horse, Marvin. She also enjoys spending time with her husband and family.