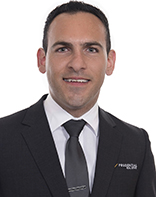 Nicholas knew he wanted to be a real estate agent long before he left High School. He was so intent on a career in property he first applied to do work experience with us when he was in Year 10. In his later years at High School he made Business Studies his No 1 subject and his Higher School Certificate results proved he was a high achiever. In the same year he received the GIO Perpetual Trophy for Constancy and Effort in Academic Studies.
Nicholas began with Prudential Real Estate immediately after finishing his last exam for the Higher School Certificate and he hasn't looked back since proving age is no barrier to success.
Over the past few years Nicholas has undertaken and completed his Certificate of Registration course which allows him to work as a real estate agent in NSW. Not one to rest on his laurels he then applied for and was enrolled in the Diploma in Property (Real Estate) course at TAFE. Today Nicholas holds a full NSW Real Estate Agent's licence and can act as an auctioneer for the sale of property.
In the time Nicholas has been with Prudential Real Estate he has shown a unyielding and determined willingness to succeed through service – genuine, personal service to both property sellers and buyers. This driven attitude saw Nick open the Prudential Real Estate Narellan office along with Michael O'Sullivan in April 2015.
Nicholas is at your service. Simply call him at any time, he would love to help you !